Hello Kitty sewing machine
I've been secretly hoping that Piglet will grow to love Hello Kitty. The machine's got some great reviews too. Hmmm... I've been actually waiting to get
this
one next month but now it looks so blah. Wouldn't it be so fun to teach Piglet how to sew on this in about 4 years? Wait, mama's gotta learn first...
Martha Stewart Kids
magazine [Are they back? I miss them... Please be back!]
Speaking of Martha, look at these cake stands from her
new line
at Macy's.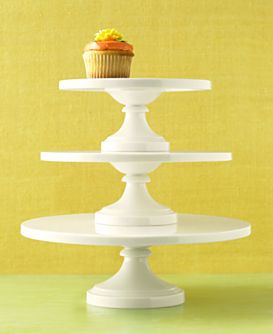 That woman is taking over the world one store at a time... and that's a "good thing". I love her simple and sophisticated style. I've been wanting a cake stand for a long time.
Children's textiles at IKEA [just opened this week, yay!]
Looks cute but we'll see... when I have the courage to check out the latest craze in Portland.
Also from IKEA, the piles of stuff, aka. my office, is calling this one's name.